MF Communications is now an authorised distributor of Cetis Teledex and TeleMatrix phones, the guest phones used by a large number of hotels.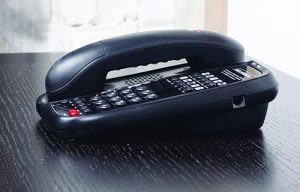 With almost 17 years in the telecommunications industry, hardware experts and network services provider MF Communications can advise on and supply the complete Teledex and TeleMatrix ranges across the UK and globally.
Cetis Inc. formed through the 2006 merger of Scitec and TeleMatrix, designs, engineers, manufacturers, and supports Teledex®, TeleMatrix®, and Scitec® brand analogue, VoIP, corded, and cordless hotel phones. A manufacturer of analogue and IP hotel phones for over 30 years, Cetis is the preferred or approved supplier of many leading hotel groups, having installer over 300,000 hotel VoIP phones worldwide.
The Teledex and TeleMatrix models are interop-certified with all major PBX, IP-PBX and Cloud phone system providers, including Alcatel-Lucent, Avaya, Cisco, Mitel, NEC and Unify.
"We are delighted to be working with MF Communications to supply TeleMatrix and Teledex phones in the UK. This partnership gives our loyal customer base and new businesses the opportunity to purchase from a reputable reseller", Reggie Chott, Sales & Business Development Manager – EMEA at Cetis Group.
"We continually look to improve our service to customers and adding Cetis to our portfolio means we can offer an even wider choice. We already work with a number of businesses in the hospitality sector so this is another chance for us to expand our reach into this industry", Adam Parker, Sales Director at MF Communications.
To purchase Cetis TeleMatrix or Teledex telephones, or to discuss your requirements, contact MF Communications: +44 (0) 1892 514687 or visit MF Communications' website.
MF Communications is a telecommunications specialist.
Providing phone hardware, parts and accessories, as well as network services – phone lines and calls, broadband, mobiles, VoIP and inbound – and maintenance, MF Communications serves businesses locally, nationally and internationally.
Established in 2000, MF Communications' company ethos of excellent customer care and quality products and services has been at the core of its business for 17 years.
MF Communications is ISO 14001 accredited for being an environmentally responsible organisation and among others, is a member of the Federation of Communication Services (FCS) and the Federation of Small Businesses (FSB).